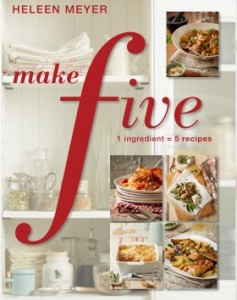 Make Five contains simple, easy recipes based around familiar ingredients, each one of which is used in five different ways.
The book focuses on a selection of everyday ingredients such as canned fish, chicken fillets, eggs, pasta, rice, dried beans, butternut and tomatoes, to name just a few.
The recipes range from quick meals, side dishes and salads to entrees and light meals. There is even a tasty treat here and there.
The last section contains basic recipes that can be used in five different ways, such as bread dough, cake batter, biscuit dough and mince.
The book will encourage people to make healthy dishes for the whole family.
It also contains tips for compost heaps and earthworm farms – perfect for the "green era" in which we live.
Also available in Afrikaans: Maak Vyf
About the Author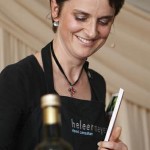 Heleen Meyer is already a household name thanks to her cookbooks, articles, TV appearances and popular weekly radio feature on Radio Sonder Grense. She is established as an independent food consultant and enjoys wide recognition for her work.
She started working as assistant to the food editor for the magazine Sarie, after which she was the food consultant at AMC Cookware for almost 10 years. In 2000 she wrote a book for them entitled The AMC Book. She is also the author of two of her own internationally acclaimed cookbooks, Food from the heart/Onthoukos en Kos is op die tafel!
View Heleen's website HERE
Follow Heleen on Twitter @heleenmeyer
Published by Human & Rousseau (An imprint of NB Publishers) 
ISBN: 9780798166324