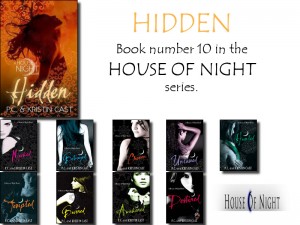 An alert to all readers of young adult novels, and those with young adults in the house – book 10 of the House of Night series, HIDDEN, releases in the next few days.
House of Night is a thrillingly engaging book series that follows 16-year-old Zoey Redbird, who gets 'marked' by a vampyre tracker and begins to undergo the 'change' into an actual vampyre. She has to leave her family and move into the House of Night, a boarding school for other fledglings like her.
It's within the school's walls that the heart of the action takes place as Zoey meets new friends, finds love, comes to terms with how her life will be different now and begins to realise her awesome new powers.
Here's the deal though: Yes, Zoey's a vampyre now. But she's still a teenager – with all the humour, angst and confusing feelings any other teenager has.