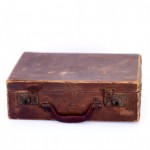 THE SUITCASE UNDER THE BED SEMINAR
Practical Advice about Publishing for Aspirant Writers
So you've written a book, or you're in the middle of writing one, or just thinking about it. Everyone says you should persevere. You have to get it published. It's a great story, page turning actually. Well, that's what your friends tell you, but is it enough?
How will you get it noticed by a publisher? Is it even good enough to be publish? Maybe you should self-publish or put it on Amazon? What do publishers know anyway? How do they decide what manuscripts to accept, what to reject?
Perhaps you should just put it in a suitcase under the bed and take up pottery instead.
If this is where you find yourself, why not come along to a day that will give you the facts, and possibly a little fiction into the bargain, from two people who know about publishing and the ever evolving book business – from inside and out.
THE SUITCASE UNDER THE BED – Practical Advice about Publishing for Aspirant Writers, being run by Alison Lowry and Tracey McDonald.
Perhaps this doesn't pertain to you, but maybe you know of family, friends and acquaintances who it does apply to.  If so, please pass on the details (it would make a really nice gift for someone this Christmas).
You can view the seminar details here: http://www.ilovebooks.co.za/aspiring-authors-seminars/.