Have you heard about MampoerShorts? They are mini-books, or long-journalism. Short enough to read in a sitting, long enough to tell the whole story. Shorter than a novel, longer than a magazine article.  They are crisp, punchy e.books, written (mostly) by South Africans and aimed (mostly) at South African readers. Distilled by the country's best and most engaging writers and journalists, they will fascinate, stimulate and inform.
MampoerShorts can be read on the Kindle Fire, iPads, Android tablets, Kobo, Gobii or on any smart phone. And for those who prefer reading the old-fashioned way, you can print them out from any computer.
You can buy MampoerShorts for $2.99 (about R27 at today's exchange rate) and start reading within minutes.
Visit their website at www.mampoer.co.za for a full list of available e.books.
Below is information about one MampoerShort – Gorilla in the Room by Anton Harber.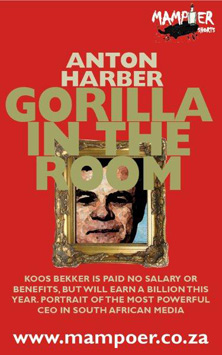 "Where does the Big Gorilla sit? The Big Gorilla sits wherever he likes."
In 1984 in South Africa, it was hard to be optimistic about the future of commercial media. Newspaper companies faced an economy in decline, escalating insurgency, and the threat of television. It was then that Ton Vosloo, new MD of the establishment Afrikaner publishing house Nasionale Pers, received a call from a young MBA student with an idea for launching pay television in South Africa.
Almost thirty years later, that young man, Koos Bekker, has played a key role in the transformation of the South African media, dominated today by household brands like DStv, M-Net, Supersport and M-Web. Bekker also built Nasionale Pers, a one-time apartheid relic, into a giant that dwarfs rival media companies in South Africa, and is big and confident enough to operate on a global scale.
Bekker is famous for having refused to take a salary or benefits. Yet this year, his shares could earn him a billion rand. In this MampoerShort, Anton Harber provides the first ever inside look at how Bekker operates, what makes him such a visionary manager, how he handles crises, and what his colleagues think of him.
Click HERE to read an extract from Gorilla in the Room.
GENRE: Business, Media, Personalities
LENGTH: 17 500 words
READING TIME: 90 mins
ISBN: 978-0-9921727-0-1