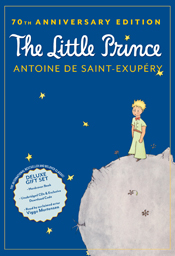 The Little Prince was first published in the US on April 6, 1943.
This fable, written by Antoine de Saint-Exupéry, about a wise, humble boy from Asteroid B-612 who befriends a stranded pilot, has touched the lives of multiple generations of readers worldwide, with more than 150 million copies in print.
Born in Lyons, France, Saint-Exupéry wrote The Little Prince while living in the US during a two-year, self-imposed exile from the Nazi occupation of his home country. A year after the book's publication, he disappeared over the Mediterranean while flying a reconnaissance mission for his French air squadron
The Little Prince Facebook page has acquired more than 1.1 million fans since its July 2011 debut, a real testament to The Little Prince's enduring popularity.