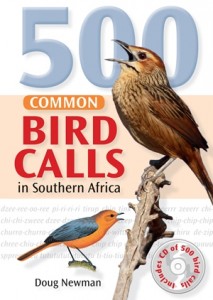 Identify bird calls with this handy guide and CD, which together feature 500 distinctive southern African species. The CD gives the best-known song or call of each species; the book provides clear and accessible text, with a brief account for each species, including a description of the song, associated behaviour, similar-sounding species, the bird's favoured habitat type, and a distribution map.
The introduction describes interesting aspects of bird vocalisations, the differences between true songbirds and non-songbirds and why calls often change with the seasons and time of day.
About Doug Newman
Doug Newman is an electrical engineer with a keen interest in birds, particularly bird calls. He is co-founder of the SimplyBirding website www.simplybirding.com, and author of the highly successful Bird Calls for Beginners, More Bird Calls for Beginners and LBJs made Simple.
Published by Struik Nature
ISBN: 9781431701209