17th Time of the Writer 17 – 22 March 2014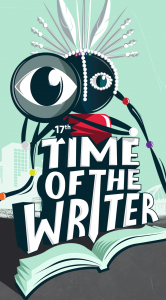 The University of KwaZulu-Natal's arts gateway to Africa and the world, the Centre for Creative Arts, is proud to present the annual Time of the Writer Festival from 17 – 22 March 2014.
The written word envelops Durban as a diverse selection of the leading novelists, social commentators, activists, playwrights and short story writers from South Africa, Africa and abroad, gather for a thought-provoking week of literary dialogue, exchange of ideas and stimulating discussion. With panels every evening at the Sneddon Theatre and a range of free daytime activities at schools, community centres and tertiary campuses.
Click HERE for the full festival programme and a list of events.
View the Festival's Facebook page HERE 
View the Festival's Twitter page HERE