You were loved and lost – then you came back . . .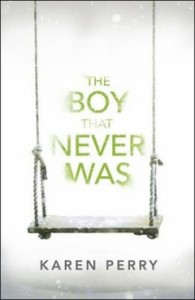 Five years ago, three-year-old Dillon disappeared during a devastating earthquake in Tangiers. For his father Harry – who left him alone for ten crucial minutes – it was an unforgivable lapse. Yet Dillon's mother Robyn has never blamed her husband: her own secret guilt is burden enough.
Now they're trying to move on, returning home to Dublin to make a fresh start.
But their lives are turned upside down the day Harry sees an eight-year-old boy in the crowd. A boy Harry is convinced is Dillon. But the boy vanishes before he can do anything about it.
What Harry thought he saw quickly plunges their marriage into a spiral of crazed obsession and broken trust, uncovering deceits and shameful secrets. Everything Robyn and Harry ever believed in one another is cast into doubt.
And at the centre of it all is the boy that never was . . .
About the author
Karen Perry is the pseudonym for Paul Perry and Karen Gillece.
Paul Perry is the author of a number of critically acclaimed books including The Drowning of the Saints, Goldsmith's Ghost, 108 Moons, The Orchid Keeper, and most recently The Last Falcon and Small Ordinance. A winner of The Hennessy New Irish Writer of The Year Award, he is a Lecturer in Creative Writing for Kingston University, London, Writer Fellow for University College Dublin and Course Director in Poetry for the Faber Academy in Dublin.
Karen Gillece is the author of four critically acclaimed novels: Seven Nights In Zaragoza, Longshore Drift, My Glass Heart and The Absent Wife, all published by Hachette Books Ireland. In 2009 she won the European Union Prize for Literature (Ireland). She lives in Dublin.
Published by Penguin Books
ISBN: 9781405912914