"On this fraught journey with the pressure of our country's future and the lives of our children at stake, a sense of humour does help to keep the trip in perspective. 'Life is', as Oscar Wilde said, 'much too important to take seriously'" – From the preface, Marc Falconer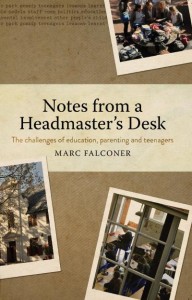 Marc Falconer is the first non-Jewish headmaster at King David High School Linksfield (Johannesburg) since its establishment in 1955. From his position as both headmaster and parent he provides behind-the-scenes anecdotes and insights into the true state of the nation's schools and educators as well as into the mysterious workings of teenage minds, interpreting situations that he encounters on a daily basis.
Marc provides a humorous look at some of the issues he has come across and the experiences he has had in order to to remind readers that, at the end of the day, as much as we worry about education in South Africa and how to mould our children into the upstanding members of the community we envision them to be, the journey does not have to be painstakingly difficult. Ultimately, if we equip them with the right set of skills and attitudes, our children will turn out just fine as they are more resilient than we realise.
This is an entertaining and thought-provoking account of the issues and challenges of education, parenting and teenagers in South Africa today.
About the Author
Marc Falconer has been involved in private schooling for the greater portion of his life, having previously taught at Thomas More in Kloof (KwaZulu-Natal) and at a host of independent schools in the UK and New Zealand. When he returned to South Africa he taught in the English Department and then headed the A-Level College at St Stithians. He was appointed headmaster of King David High School in January 2005.
Published by Pan Macmillan 
ISBN: 9781770103528