You will find a real life, gritty account of drug addiction in the pages of ROCKS – One Man's Climb from Drugs to Dreams. It will take you on a journey – from the despair of being rock bottom to the elation of the mountain-tops of Kilimanjaro.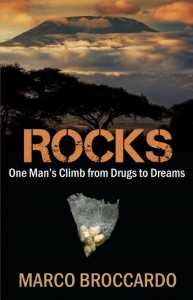 Says Marco: 'I am not recovering. I am recovered. You, too, can be a recovered addict.'
Imagine going from schoolboy experimentation with drugs to being so addicted that you begin planning your parents' murder so that you can get money (for more drugs) from your inheritance! Sadly Marco's story is not an isolated one.
Marco was an ordinary boy from an ordinary family. He had parents who loved him and provided him with a safe and caring home. He had older sisters who doted on their little brother. He had friends and he played sport at school. When he experimented with weed and then with coke and ecstasy, he was no different from the circle he socialised with and partied with at weekends. Drugs made him feel great. What was the harm?
The trouble came when supply and demand were out of balance and a harmless joint and a couple of pills no longer did the trick. Marco needed cash – more and more of it. He became a runner for the dealers who operated in the clubs where Joburg teenagers went to party. He had money and he had drugs. Life seemed good. Then two things happened: he found he was consuming more of the druglords' stock than he was selling, and he discovered crack cocaine. The moment of choice came in no more than a heartbeat. For him it was a no brainer. Marco chose rocks. 
From that moment on he cast everything and everyone aside in his ruthless pursuit of his next high. He took his family to the brink of financial ruin and emotional despair; he lied his way through rehabs and halfway houses; he used every genuine offer of help as opportunities to plan his next spectacular relapse; and he dismissed several close calls with death as signs that he just needed to be more careful next time. He didn't care. Chasing the high was his only mission in life, no matter who or what he destroyed in the process.
Until the day he made the dramatic and life-altering decision to change. How he did it and what he has done with his life since then are nothing short of miraculous.
This is Marco's story.
The official book trailer for Rocks
BOOK ROYALTIES to MOUNTAIN HEIGHTS
Marco is donating all royalties earned on the sales of his book to the non-profit organisation that he founded, called MOUNTAIN HEIGHTS. To read more about Mountain Heights, and the work that they do to help addicts recover, click HERE.
Marco Broccardo will be launching his book Rocks – One Man's Climb from Drugs to Dreams on the 5th of November '14 at Skoobs in MonteCasino (18h00 for 18h30), and you are invited.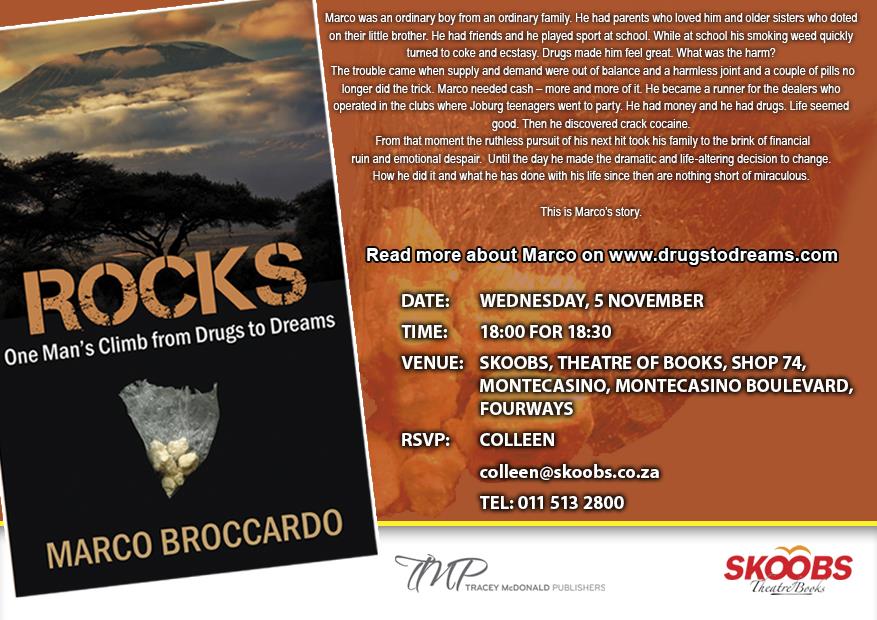 About the Author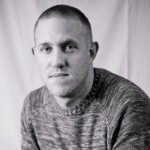 Marco and his wife, Catherine, have two sons and a daughter. His favourite thing in the world is spending time with his family. He also enjoys reading a good book, PC gaming (Starcraft and Call of Duty in particular) and building remote control model airplanes.
Marco founded Eurocom, a mobile marketing company and specialist prize sourcing and fulfilment company, in 2005. An entrepreneur at heart, sales is Marco's forte. He began his sales career as an external sales manager in the banking industry. He then became sales manager of a mobile marketing company, after which he opened the doors of his own company, Eurocom.
Although Marco enjoys being at home, he also loves the outdoors, especially extreme sports such as walking across the desert, scuba diving and climbing mountains.
View Rocks' website HERE
View Marco's Facebook pages HERE
Follow Marco on Twitter HERE
Published by Tracey McDonald Publishers
ISBN: 9780620601696