'Chris Hani was killed by those who would like to see an explosion of carnage and race war, a massive spilling of blood, and the end of negotiations. The assassins want to drag us back to a military battlefield. Let us draw them back to a battlefield of our choosing – the battlefield of the ballot. They may have the guns. But we have the majority. Chris Hani had a dream of democracy. They killed the man, but they can never kill the dream. And the dream of Chris Hani is about to become a reality.'
– Speech by Joe Slovo at Chris Hani's funeral (19 April 1993)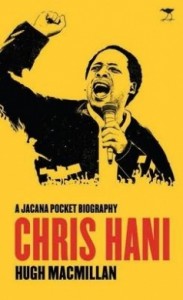 The assassination of Chris Hani outside his home in Dawn Park on 10 April 1993 by a right-wing extremist was a decisive moment in the transition to democracy in South Africa. Drawing on personal knowledge of the ANC in exile in Lusaka, as well as archives and interviews, Hugh Macmillan shows in this book how it was that a man from a remote corner of the Transkei, who had never held high office, was held in such high esteem by so many people. He demonstrates how Hani's conspicuous displays of both physical and moral courage, taken together with compassion and humanity, combined to make him a great leader.
'I think finally the ANC will have to fight a new enemy. That enemy would be another struggle to make freedom and democracy worthwhile to ordinary South Africans … what we do in the field of socioeconomic restructuring: creation of jobs; building houses, schools, medical facilities; overhauling our education; eliminating illiteracy, building a society which cares, and fighting corruption and … the gravy train of using power, government position to enrich individuals. We must build a different culture in this country, different from Africa, different from the Nationalist Party. And that culture should be one of service to people.' 
– Chris Hani: Thoughts on the transition from liberation  movement to governing party.
About the Author
Hugh Macmillan is a historian who has taught at universities in Swaziland, Zambia and South Africa. He is currently a research associate at the African Studies Centre, Oxford University and an extraordinary researcher at the University of the Western Cape. He has published widely on a variety of southern African topics, including the history of the ANC. His books include The Lusaka Years: The ANC in Exile (Jacana, 2013) and An African Trading Empire (IB Tauris, 2005).
View Hugh's website HERE
View Hugh's Facebook page HERE
Published by Jacana Media
ISBN: 9781431408917