Freshly unpacked on the bookshop shelves is Gerald Mwandiambira's book My Money - A Financial Planning Guide for Ordinary People.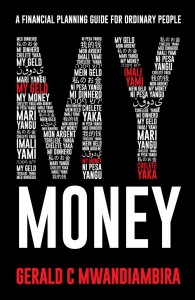 Money is a tool that we can all master. You choose to either be a 'Money Slave' or a 'Money Master'.
Imali Yami · Chelete Yaka · My Geld · My Money is a practical, easy to read, personal finance book – a guide that will help many South Africans begin to create wealth and not fear the subject of personal financial planning.
A treasure trove of useful advice and tips, this book is essential reading to gain a basic understanding of money mechanics. A guide to help you find your confidence, and see money as it really is – a tool that anyone can use.
With a chapter dedicated to almost every financial situation we face in our lives,  My Money will become your go-to book that will help you unlock your financial potential and gain control of your financial affairs.
You, too, have the potential to become a 'Money Master'.
To buy a copy of My Money click HERE.
"Gerald provides bite-sized, easily accessible information to help you on your money journey." – MAYA FISHER-FRENCH, Award Winning Financial Journalist and author of Maya on Money