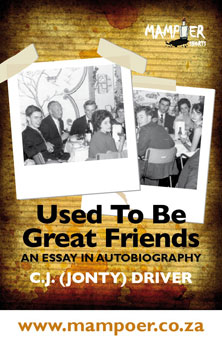 New from MampoerShorts …
A photograph captures nine youngsters celebrating their friend's 21st birthday in 1962. Two of the nine were to serve prison sentences for their active opposition to apartheid, one was murdered, and another, the author, did a spell in solitary confinement before being exiled.
This moment, frozen in time, shows the youngsters on the brink of extraordinary journeys: Alan Brooks, imprisoned for two years for sabotage and deported upon release; John Clare, who became the Education Editor for the Daily Telegraph; Stephanie Kemp, the first white woman assaulted during detention, exiled and later the wife of Albie Sachs; Roger Jowell, who became Professor Sir Roger Jowell, founder-director of Britain's National Centre for Social Research; Sally Frankel, who emigrated to Australia; Jonty Driver, detained in solitary confinement, then exiled; Jann Parry, who became a dance critic for the Observer, now an award-winning author; Rick Turner, outspoken activist, shot dead on his own doorstep probably by a government agent; and Barbara Hubbard, who became a British MP and a minister, now married to novelist Ken Follet.
This autobiographical look at the nine youngsters spans a history of activism, bombings, arrests, exile, passionate commitment and occasional regret.
An earlier version of this essay was first published in Granta 80, Winter 2002.
e.BOOK DETAILS
LENGTH: 13 000 words
READING TIME: +/- 60 mins
ISBN: 978-0-9921903-5-4
PRICE: $2.99
FORMAT: e.book
URL LINK: http://www.mampoer.co.za/c-j-jonty-driver/used-to-be-great-friends
About the author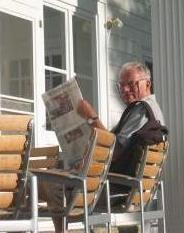 C.J. (Jonty) Driver, South African-born poet, novelist and essayist, based in the UK. President of the National Union of South African Students (NUSAS), in 1963 and 1964, and held in solitary confinement by police on suspicion of involvement in the African Resistance Movement. While a postgraduate student at Trinity College, Oxford (1965-7), he was refused a passport and was stateless for five years until becoming a British citizen. He remained a prohibited immigrant in South Africa until 1991.
View C.J's website HERE

When I meet people who were young in South Africa in the 1970s, they are always much more impressed that I once shared a house with Richard Turner than with the fact that I was president of NUSAS. I wish now I had spent more time with him in those months in Cape Town.
When I showed John Clare the photograph of his own 21st birthday party, he called the young woman next to Rick Turner the 'star of the show' – and I suppose she is: she is Barbara Follett, from 1997 the MP for Stevenage, though now retired from Parliament, a specialist in management training, 'style consultant' to New Labour, and often credited with having helped make the Labour Party more attractive to the urban middle-classes, to women, and to the young. She was one of the founders of 'Emily's List', which promoted the election of Labour women to Parliament. Her present husband is the immensely successful thriller-writer, Ken Follett, and they own homes in Stevenage, Chelsea, Antigua and Tuscany.
Gossip had it that they were among the closer friends of former Prime Minister Blair and Cherie Booth QC, though there was a public falling-out in 2000, in which some nasty words were said, with offence given and no doubt taken. At the time of the photograph, Barbara was Rick Turner's girlfriend, pretty, bright, and seemingly at once both young and sophisticated. Born in the West Indies, she had lived in England and in Ethiopia before coming with her family to South Africa in 1957. Later, she and Rick married – the ceremony was in the garden of John Clare's Cape Town flat, and it is a nice touch that John was called to be a witness of what Barbara said was to be her 'last marriage'. Barbara and Rick had parted and divorced some years before he was murdered, but she has written movingly of having been called to help by their distraught children after the murder.