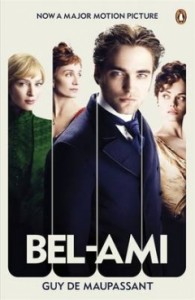 In 1885 Bel-Ami was first written in French, by the author Guy de Maupassant, and the English translation was published in 1903.
Here is a summary of the story-line: Young, attractive and very ambitious, George Duroy, known to his friends as Bel-Ami, is offered a job as a journalist on La Vie francaise and soon makes a great success of his new career. But he also comes face to face with the realities of the corrupt society in which he lives – the sleazy colleagues, the manipulative mistresses and wily financiers – and swiftly learns to become an arch-seducer, blackmailer and social climber in a world where love is only a means to an end.
The movie adaptation of Bel-Ami releases nation-wide today, starring, amongst others, Robert Pattinson, Uma Thurman, Kristin Scott Thomas and Christina Ricci. Click HERE to watch the film trailer.