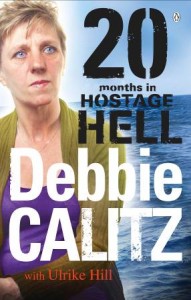 Yesterday I read an extract, in the YOU Magazine, from 20 Months in Hostage Hell, the book written by Debbie Calitz, and co-written by Ulrike Hill.
Debbie reveals the details of their capture by Somali pirates, their 20 months in hostage hell and their eventual rescue. It is a story of overwhelming courage from a woman who overcame all odds when freedom and dignity were a distant memory.
When Debbie and her partner Bruno set sail from Dar es Salaam in October 2010, they could never have guessed that they would be making a voyage into the depths of hell. Three days into their journey as crew on board the yacht Choizel, the yacht was captured by Somali pirates who held them ransom. For twenty months the pair were made to live in dark rooms while they were moved countless times between different locations and captors who subjected them to untold horrors. Yet Debbie's spiritual awareness, her sense of humanity and, ironically, her past history of being the victim of abuse, helped her to stay alive as she remained positive in the belief that she and Bruno would be rescued.
The book is available in English and Afrikaans, published by Penguin Books.
The recommended retail price for both books is R220 each.  I Love Books' price is R200 each, a saving of R20.  Email me on tracey@ilovebooks.co.za if you would like to buy a copy (free delivery anywhere in South Africa).
20 Months in Hostage Hell – ISBN 9780143530589
20 Maande in Gyselaarshel – ISBN 9780143530596