Third World Child is about living in South Africa in the time of apartheid and also living here today – about being truly African even as a white person.  It is about the adventures, the cultural challenges and the future possibilities of South Africa.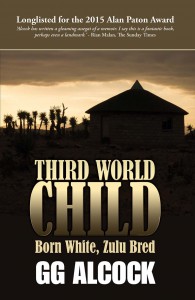 Says GG, 'This is the story of my world or, more accurately, the worlds in which I live.'
GG Alcock's story mirrors that of many of his people, the journey of a tribal society learning to embrace the first world. He does not shy away from the violence and death that coloured his childhood years surrounded by savage faction fighting, nor how they affected his adult life. His story is one of heartbreak and tragedy and, paradoxically, of vibrant hope and compassion. A restless energy and sardonic humour permeate his writing, which is compelling in its honesty and spontaneity.
GG's parents, Creina and Neil, were humanitarians who gave up comfortable lives to move to rural Zululand. In a place called Msinga they lived and worked among the Mchunu and Mthembu tribes, fighting for the rights of people displaced by the apartheid government's policy of 'forced removals'. They also fought against the corruption of police and government officials, as well as local farmers, which did not sit well with their white fellow citizens.
When GG was fourteen his father was assassinated by rival tribesmen.
GG's early life in rural Zululand in the 1970s and 80s can only be described as unique. He and his brother Khonya, both initially home-schooled by their mother, grew up as Zulu kids, herding goats and playing with the children of their neighbours, learning to speak fluent Zulu, learning to become Zulu men under the guidance of Zulu elders, and learning the customs and history of their adopted tribes. Armed with their father's only legacy – the skills to survive in Africa – both young men were ultimately forced to move into the 'white' world which was largely unknown to them.
'Astonishing. Alcock has written the first report from the next South Africa. You might think you know South Africa, but this book will show you otherwise.' – RIAN MALAN, author of My Traitor's Heart.
At the Durban International Film Festival, British producer Andrew Bendel announced that Blue Horizon Productions has acquired the film rights to GG Alcock's memoir THIRD WORLD CHILD: Born White, Zulu Bred. Click HERE for details.
About the Author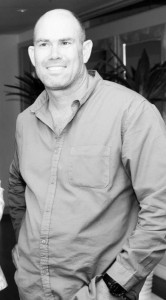 GG Alcock has been at times a shebeen owner, political activist, community worker and African adventurer. Today he is the CEO of Minanawe Marketing, a division of The Creative Counsel. Minanawe is the leading activations agency in the South African mass market, where GG's singular upbringing has given him the ability to unearth unique insights and creatively apply these to marketing solutions for a number of multi-national companies.
GG is very happily married to Sue, and has two beautiful blonde daughters, Zandi and Consi, for whom he insists in Zulu fashion he can expect a lot of lobola one of these days. GG lives in Joburg although his love of Africa leads him on many explorations of the continent. His staff is convinced that he never works but spends as much time as possible on one or other adventure – motorcycling across deserts and mountains, mountain biking among Zulu villages, paragliding or kayaking. 'It's not true,' says GG. 'I don't spend enough time doing this!'
View GG's Facebook page HERE and follow him on Twitter HERE
Published by Tracey McDonald Publishers
ISBN: 9780620656597