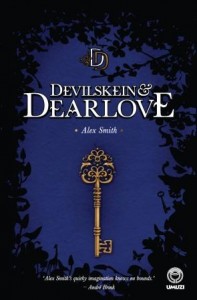 When thirteen-year-old Erin Dearlove has to move in with her aunt on Cape Town's bustling Long Street, she struggles to adapt to her new life, harbouring a dark secret. But her friendship with their upstairs neighbour, Mr Devilskein, soon helps her to adjust. Like Erin, Mr Devilskein has something to hide: he is the keeper of six mysterious doors. He entrusts Erin with the key for one of these doors, and she discovers that they lead to infinite magical worlds. In wonder she explores an underwater paradise, the lost works of William Shakespeare, and a beautiful Chinese garden. During her adventures she meets a prisoner names Julius Monk, but Julius is not all he appears to be. The captive and his Book of Dooms prove dangerously enticing, and soon it is up to Erin to save the lives of those she's grown to love.
Devilskein & Dearlove is as sinister and intriguing as it is quirky and colourful. With inimitable storytelling flair, Alex Smith weaves an enchanting tale of friendship, adventure and magic.
Courtesy of Random House Struik, read an extract HERE
Watch the animated trailer HERE
About the Author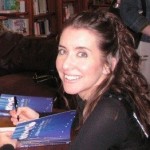 Alex Smith is the author of Algeria's Way, Four Drunk Beauties, Agency Blue and Drinking from the Dragon's Well. Her writing has been short-listed for the SA Pen Literary Award and the Cain Prize for African writing, and has won a Sanlam Prize for Youth Literature and a Nielsen Booksellers' Choice Award. She lives in Cape Town with her partner, their book-loving baby boy and their dogs.
CLICK HERE to watch Alex read from her novel Drinking from the Dragon's Well
Published by Umuzi (An imprint of Random House Struik)
ISBN: 9781415206973