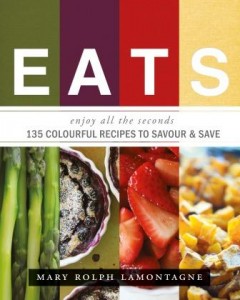 Mary Rolph Lamontagne confides that her inspiration for EATS was a light-bulb moment while working at a bush camp in Botswana. They were low on stock and the left overs were building up in the fridge. High-paying guests were expecting a memorable meal. In addition to a diverse and colourful collection of recipes, EATS provides practical solutions for saving and reusing ingredients to create new (and exciting) meals. Mary's simple tips on reinventing left overs will help the home cook eliminate waste, save money, and challenge their culinary creativity.
There are 27 master recipes with another 108 alternate recipes that are arranged by the colour of the ingredients. So, for instance, The Reds chapter includes ingredients such as beetroot, tomato and apple, and each ingredient boasts its own range of dishes, e.g. Beetroot tart with baby rocket, Tomato and fennel soup with cheese croutons, and Apple-stuffed pork chops. An extensive index ensures that the reader can locate dishes within the more traditional breakdown of appetizers, light meals, main courses, desserts, cakes, vegetarian dishes, etc.
EATS covers a wide range of techniques and cooking styles, and also offers many tips and tricks on reusing food items, what to buy and how to store, and even growing your own fruit and vegetables.
About the Author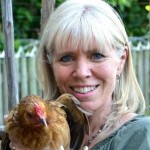 Mary Rolph Lamontagne has been active in the food industry for the past 20 years. After graduating from college in the US, with a BA in Art History, Mary attended the Ritz Escoffier Culinary School in Paris. When she moved back to her hometown of Montreal she worked as an event planner, as well as a food journalist for a French Canadian magazine. Since arriving in South Africa in 2005, Mary has worked as a food consultant for the Protea Hotel group, as well as for various upscale South African Bush camps.
Like Mary's Facebook page HERE
View Mary's website HERE
Follow Mary on Twitter @savourandsave
Published by Struik Lifestyle (An imprint of Random House Struik) 
ISBN: 9781432303341