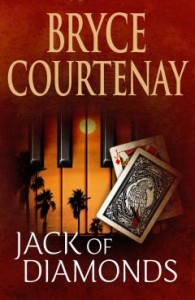 I have always been a fan of Bryce's writing, and have had the pleasure of meeting him twice – he is a a real charmer, who makes you feel as though you are the only person in the room.
His new book JACK OF DIAMONDS releases in South Africa in December and it is set across three continents - a spellbinding story of chance, music, corruption and love.  I cannot wait to get my hands on a copy to start reading.
Sadly, Bryce has been diagnosed with terminal gastric cancer and this will be his last novel.  You can view a YouTube clip here of Bryce saying thank you, and goodbye, to his readers: Thank you message from Bryce Courtenay.