After 602 days dry, Captain Benny Griessel of the South African police services can't take any more tragedy.
So when Benny is called in to investigate a multiple homicide, it pushes him close to breaking point–a former friend and detective colleague has shot his wife and two daughters, then killed himself. Benny wants out – out of his job, his home and his relationship with his singer girlfriend, Alexa. He moves into a hotel and starts drinking.
Again.
But Benny's unique talent is urgently required to help investigate another crime – the high profile murder of Ernst Richter, MD of a new tech startup, Alibi, whose body is discovered buried in the sand dunes north of Cape Town. Alibi is a service that creates false appointments, documents and phone calls to enable people to cheat on their partners. It has made Richter one of the most notorious people in South.
About the Author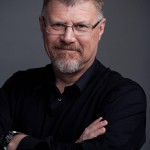 Deon Meyer's books have attracted worldwide critical acclaim and a growing international fanbase. Originally written in Afrikaans, they have now been translated into twenty-eight languages.
Thirteen Hours was shortlisted for the CWA International Dagger and won the Boeke Prize in South Africa – the first time in the prize's 16 year history that a South African book has won. His novels have also won literary prizes in France, Sweden, Germany and the Netherlands, and the film rights to seven of his novels have been optioned or sold.
Deon has also written two television series, and several screenplays for movies. In 2013 he directed one of his original scripts for the feature film The Last Tango.
Deon Meyer lives near Cape Town in South Africa. His big passions are motorcycling, music, reading, cooking and rugby. In January 2008 he retired from his day job as a consultant on brand strategy for BMW Motorrad, and is now a full time author.
View Deon's website HERE
Like Deon's page on Facebook HERE and follow him on Twitter HERE
Published by Jonathan Ball Publishers
ISBN: 9781473614390