Jamie's cookbook for 2014 is all about those wonderful comforting dishes closest to your heart.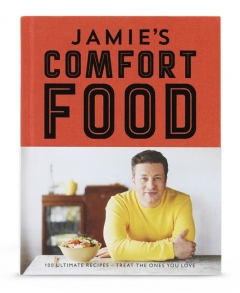 It's about food that makes you feel safe, secure, excited and happy. Dishes are inspired by everything from childhood memories to the seasons, taking into account all those guilty pleasures and lots of good mood food. 
With much-loved meals from around the world, the recipes in this beautiful book are guaranteed to hit the spot, every time.
From the ultimate mac 'n' cheese and mighty moussaka, to delicate delicious gyozas, and lots of indulgent sticky toffee pudding and retro semifreddo viennetta, there's something for everyone.
About the Author
Jamie Oliver started cooking at his parents' pub, The Cricketers, in Clavering, Essex, at the age of eight. After leaving school he began a career as a chef that took him to the River Café, where he was famously spotted by a television production company.
His television and publishing career began in 1999 with The Naked Chef series. Since then he has set up Fifteen restaurant in London, changed school dinners in the UK and revolutionized home cooking. His charity, The Jamie Oliver Foundation, seeks to improve people's lives through food.
He writes for publications in the UK and around the world, including his own Jamie Magazine. Jamie lives in London and Essex with his wife Jools and their children.
View Jamie's website HERE
View Jamie's Facebook page HERE and follow him on Twitter HERE
Published by Penguin Books
ISBN: 9780718159535