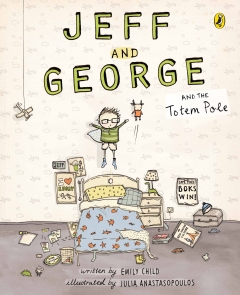 Jeff and George is a beautiful and highly entertaining children's book that illustrates the unusual friendship between a boy and a tiny springbok. The energetic duo live together in a flat in the middle of Cape Town where they playfully get up to mischievous antics. Jeff, the boy, loves to clean and organise things. George, the springbok, loves to dream of green grass on which to leap. They share an overwhelming passion for rugby, adventure and imaginative problem-solving.
On one miserable drizzly day, they create a magical rain coat that enables them to escape from their cramped-in flat. This charming book about the fun-filled adventures of two quirky friends will teach children the value of friendship and imagination, and most of all, a love for rugby! 
View the official Jeff and George Facebook page HERE.
Courtesy of Penguin Books, Introducing: JEFF AND GEORGE by Emily Child and Julia Anastasopoulos.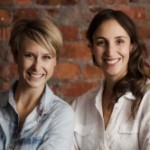 *Julia Anastasopoulos (right) with Emily Child (left).
Illustrated by Julia Anastasopoulos
Illustrator Julia Anastasopoulos is a multi-disciplined artist, actress and designer. She has worked in many fields, including theatre design, children's book illustration and mural making. She also lives in Cape Town.
View Julia's website HERE
View Julia's Facebook HERE and follow her on Twitter @knolc
Written by Emily Child
Emily Child is originally from Johannesburg but now lives and works in Cape Town as a professional actress. She can be seen on both stage and screen around the country. Jeff and George is her first book.
View Emily's Facebook page HERE and follow her on Twitter @emilyychild 
Published by Penguin Books
ISBN: 9780143538837