Did you know…
That the muti market is worth R3 billion a year, with 27 million consumers?
That the average hawker earns R3 000 a month and there are nearly 500 000 of them!?
That the trade in goats is worth millions of rand?
That the dagga trade can set the standard for market and distribution to the informal market?
That Parmalat Cheese Slices have created a multi-million rand business in kotas, and why the Perfect Sishebo Show is the biggest food show in the country?
 'Kasinomics is a book as eclectic, mysterious and colourful as the places and people it explores.'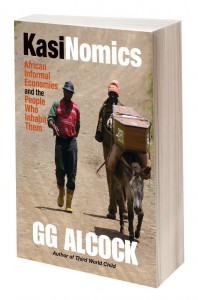 eKasi, the lokasie, the South African township, once an apartheid ghetto, is today an amazingly transformed place. This township today is an eclectic mix of mansions, shacks, spaza shops, rocking taverns, hawkers, taxis and hot wheels. In this kasi there are vibrant businesses, energetic people, a tightly networked social community and abundant hope.
That is not to say there isn't extreme poverty, suffering and dissatisfaction, particularly on the peripheries in the huge shack settlements, but to paint the place as a slum is a massive mistake.
Kasinomics attempts to cast a light on the invisible matrix at the heart of South Africa's informal economies and the people who live in them. Living and doing business in African marketplaces requires an ethos uniquely suited to the informal, to the invisible, to the intangible. Kasinomics will take you down those rural pathways, weave between claustrophobic mazes of shacks, browse a muti market, visit a spirit returning ceremony and save money with gogo in a stokvel, among many more people and places.
After almost twenty years of focusing on marketing to the informal sector, GG Alcock, CEO of specialist marketing company Minanawe, showcases a number of groundbreaking and very successful case studies in this invisible informal world. His vivid anecdotes and life experiences and how they link to understanding and inspiration for business ideas will make you gasp, laugh and shake your head in wonder.
About the Author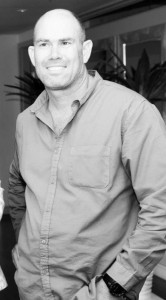 GG Alcock, and his brother Khonya, are the sons of Neil Alcock(who was murdered when GG was 14) and Creina Alcock, who still lives in the Msinga Valley, continuing GG's father's work among the Zulu people.
GG and his brother were home-schooled, under an acacia tree, by their mother until the beginning of standard six when the Department of Education forced them to go to "real school".  He completed his schooling at a local government boarding school in Greytown, hating every minute of it.  Following school he completed his two years military service, where he challenged township duty and faced the inevitable consequences.
After army GG worked for a number of anti-apartheid activist organisations on legal challenges to the Land Act (where black people were dispossessed of their land). During this time he grew a fairly high political profile in the media and government circles of KwaZulu-Natal.
With the changes brought about by the unbanning of the ANC GG moved into business and is currently the CEO of Minanawe Marketing (a very successful agency focused on marketing to the mass market, rooted in consumer understanding).
GG is 46, very happily married, and has two very beautiful blonde daughters who he will be expecting lots of lobola for one of these days, and lives in Joburg.  He loves Africa and being African, and his staff are convinced that he never works but spends as much time as possible on one or other adventure – motorcycling across deserts and mountains, mountain biking, paragliding or kayaking. 'It's not true,' says GG, 'I don't spend enough time doing this!'  Having realised from an early age that there is no glamour in poverty GG is trying very hard to grow his collection of adventure toys!
View GG's website HERE
Follow GG on Twitter HERE
Published by Tracey McDonald Publishers
ISBN: 9780620651653