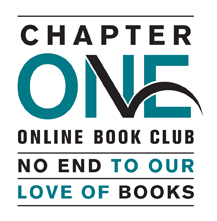 Do you find that as your busy life takes its daily course, your family, work and social life all compete for your precious time and you end up with very little time for yourself, let alone an evening at book club?  
Well, we may just have a solution for you!  We've found an online book club on the website called Chapter One where you can read along with others and share your thoughts online – and in your free time.
This is what they do:
Ladies Who Lunch choose a suitable novel out of their monthly new books which will be available from all good bookstores and online retailers during a particular month.
They will tell you a bit about the book and the author.
They then set up a reading and discussion schedule which will run for four weeks.
This is what you do:
You read their emails and get excited about the book they've chosen!
You buy a copy of the book at your favourite bookstore or online store.
You read along with them and share your thoughts on the book on the discussion days (or really whenever you can, even if it's not on the selected days) at a time that suits you! Oh, and you don't even have to register – just make your way to the book club blog and chat away.
Click here to read all about their first book. You can also join them on Facebook and Twitter for regular updates and reminders about the reading and discussion schedules.