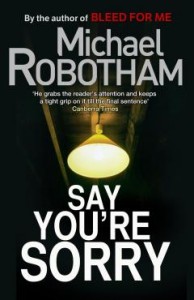 Two of my favourite book characters, clinical psychologist Joe O'Loughlin and ex-cop Vincent Ruiz, are back in Michael Robotham's new thriller that I highly recommend, SAY YOU'RE SORRY.
TWO MISSING GIRLS.
TWO BRUTAL MURDERS.
ONE PERSON WHO KNOWS THE TRUTH.
When best friends Piper and Tash disappear one Sunday morning, the investigation captivates the nation but the teenage girls are never found.
Three years later, during the worst blizzard in a century, a husband and wife are brutally murdered in the farmhouse where Tash once lived.  A suspect is in custody, a troubled young man who can hear voices and claims that he saw a girl that night being chased by a snowman.
Convinced that Piper or Tash might still be alive, Joe O'Loughlin persuades police to reopen the investigation, but the closer he gets to the truth the more dangerous it becomes.
ONE GIRL IS COUNTING ON THEM AND SHE'S RUNNING FOR HER LIFE …