When I was knee-high to a grasshopper and couldn't even read a word, it didn't stop me from being fascinated with books.  I would endlessly page through our big World Atlas, and make up travel stories that would have made Bill Bryson proud.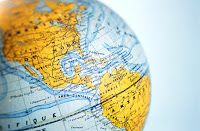 And then a friend invited me to her house, and she had a world globe on her bedroom bookcase (I was so jealous!) . I spent many hours spinning that globe, and making up further travel adventure stories for whatever country my finger eventually stopped on.
My fascination with maps has not abated, and I still take great joy in looking at them.
In the opening pages of Martinique Stilwell's sailing memoir, Thinking Up A Hurricane, there is a gorgeous map showing Vingila's circumnavigation voyage of the world.  Read Martinique's blog HERE about the ups and downs of writing a memoir, and how one of the most enjoyable parts of creating the book was working on the map with James Berrange.