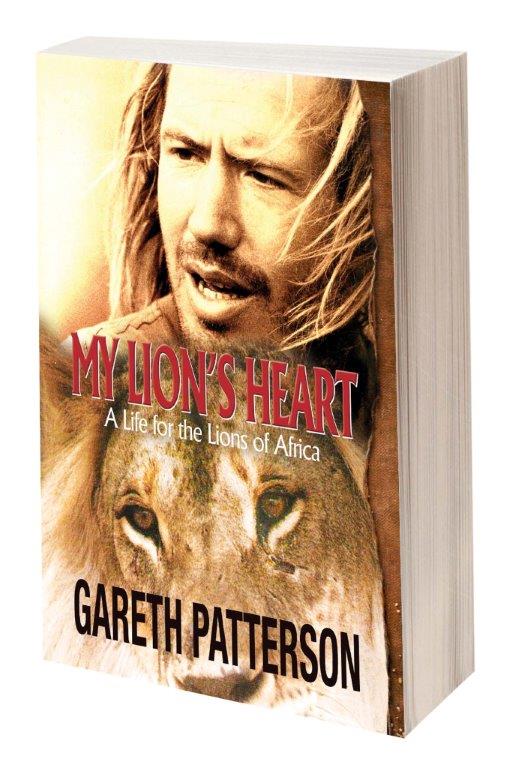 Gareth Patterson's long-awaited autobiography My Lion's Heart is a moving account of one man's single-minded dedication to the preservation of Africa's wildlife. It is also a stark reminder that if the human race does not want to lose Africa's priceless wild heritage there is no time to waste.
Says Gareth: 'My Lion's Heart is my tenth book, and is probably the most important book I have written. It tells my life story, a story of tears and smiles, about my attempts to greater protect the iconic animal symbol of this continent, the African lion.'
Environmentalist, independent researcher and author, Gareth has spent his entire adult life working tirelessly for the greater protection of African wildlife and, more particularly, for that of the lion. Born in England in 1963, Gareth grew up in Nigeria and Malawi.
From an early age he knew where his life's path would take him – it would be in Africa, and his life's work would be for the cause of the African wilderness and its wild inhabitants. His is an all-encompassing African story. From his childhood in West and East Africa to his study of a threatened lion population in a private reserve in Botswana to his work with George Adamson, celebrated as the 'Lion Man' of Africa, we witness Gareth's growing commitment to his life's mission.
This is nowhere more evident than in his account of his life as a human member of a lion pride, experiencing life and death through its eyes, as he successfully rehabilitated three famous orphaned lion cubs back into a life in the wilds. At considerable risk to his own personal safety, he exposed the sordid canned lion 'industry' in South Africa, bringing this shameful practice to international attention. After moving to the Western Cape he took up the fight for the African elephant, notably the unique endangered Knysna population, and published his astonishing findings in his 2009 book The Secret Elephants.
Perhaps unsurprisingly, given the stressful nature of his work, Gareth suffered a massive physical and mental breakdown in his forties, which he discusses here for the first time with an openness that underlines his courage. Lesser men might have been broken, but his 'lion's heart' fought back and he ultimately overcame his illness.
View the official book trailer below, and watch it twice – the first time round read the words, the second time round listen to the lyrics of the song.
Gareth Patterson will be launching his autobiography My Lion's Heart – A Life for the Lions of Africa on Thursday the 23rd of October, at 18h30.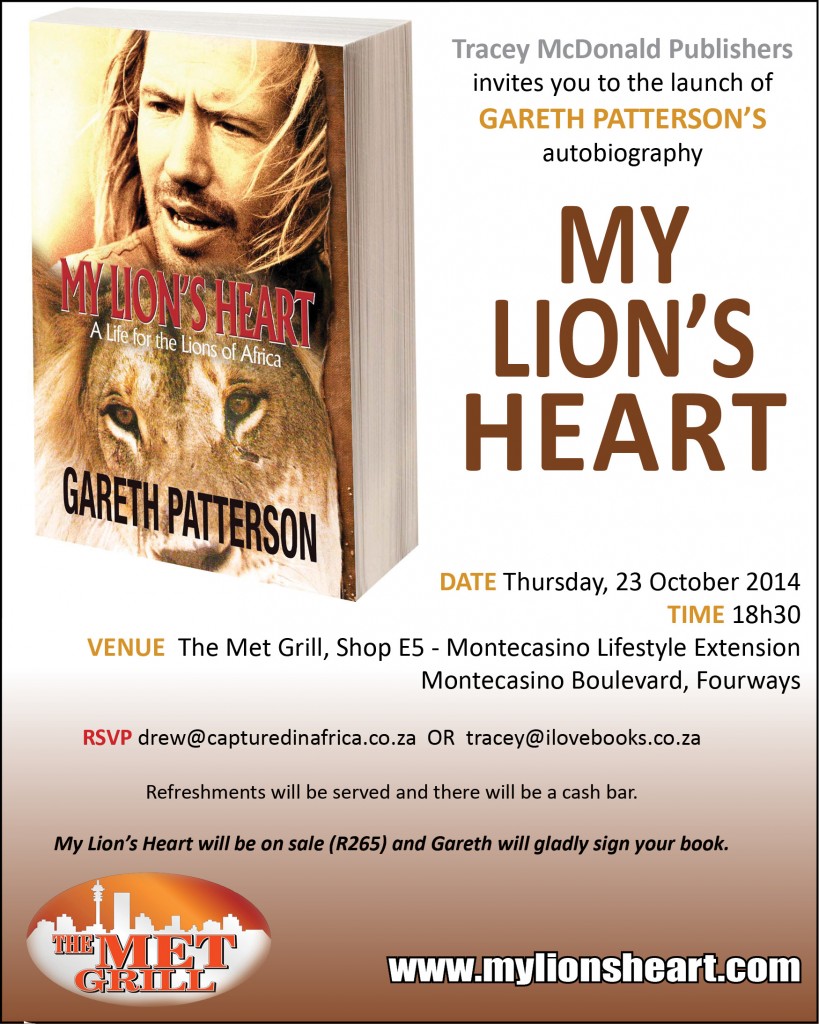 View My Lion's Heart's Facebook page HERE
View My Lion's Heart's website HERE
About the Author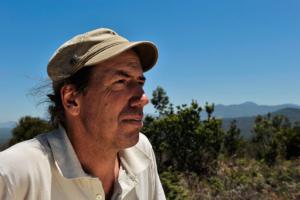 Gareth Patterson is known internationally for his efforts to greater protect the lions and elephants of Africa. His wildlife work has featured widely in the media, books and in documentaries. His books have been published in many editions and languages worldwide.
Patterson was the recipient of the Operation Survival Award and of the prestigious Cape Times Environmental Award. He has been an adjudicator for the SAB Environmental Journalist of the Year Awards.
The Search for the Knysna Elephants, a documentary about Patterson's findings on the remarkable Knysna elephants, has been screened internationally by Animal Planet.  He is continuing his research on the elephants, as well as undertaking field work on the existence of another mysterious denizen of the southern Cape, the previously unknown about coastal leopards.
A highly self-motivated person who lives by the adage 'Never give up', Patterson delivers inspiring presentations and talks drawn from his life and experiences.
View Gareth's website HERE
Published by Tracey McDonald Publishers
ISBN: 9780620601337