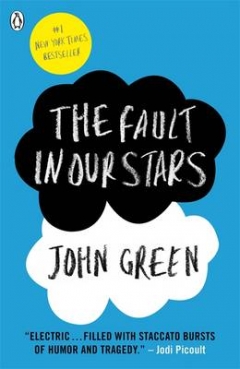 From the get-go let me say that The Fault in Our Stars is a book that you need to read!  It is a love story – one of the most genuine and moving ones that I have read in a long time. It is about teenagers who happen to have cancer, but it's not a cancer book, because as the narrator bluntly puts it, "cancer books suck" — by which she means they're full of clichés and sentiment that conceal hard truths.
Written by John Green, the story is narrated by a sixteen-year-old cancer patient named Hazel Grace, who is forced by her parents to attend a support group, where she subsequently meets and falls in love with the seventeen-year-old Augustus Waters, an ex-basketball player and amputee.
Hazel was diagnosed with Stage 4 Thyroid cancer when she was 13 and on her first words to Augustus (he lost a leg to osteosarcoma) he fell in love – not the kind of 'teenage puppy love' that you are imagining, but the 'real deal love'.
This book by John Green brilliantly explores the funny, thrilling, and tragic business of being alive and in love.  It is about courage, hope, humour, sadness, irreverence, and loss.  But most of all … it's about love.
The book was originally published for the young-adult market but is has seamlessly crossed the age divide and adults are enjoying reading it as much as teens.
The title of the book is inspired by a famous line from Shakespeare's play Julius Caesar (Act 1, scene 2). The nobleman Cassius says to Brutus, 'The fault, dear Brutus, is not in our stars, / But in ourselves, that we are underlings.'