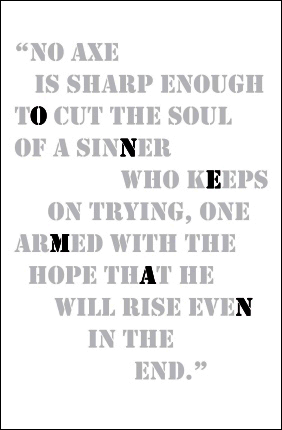 The story of six people. Their lives strangely intertwined. One day. One night. A night that will change all of them in ways they could never have imagined.
Revenge.
All Gwaza wants is revenge and he doesn't care who he has to go through to get it. Seven years in a maximum security facility have turned the young tsotsi into a warrior and now he has only one thing on his mind – to kill the woman who put him away, the woman who sent him to Hell. Who can stop him?
Love.
All nine-year-old Kiki wants is love. Ignored by her mother and father, Kiki is endlessly jealous of Anele – the daughter of her family's domestic worker. Busi is always there for Anele – laughing at her jokes, braiding her hair. In contrast all Kiki has is her "Barbie Sitter" – the most recent in an endless line of au pairs. Will anyone truly care when she goes missing?
Peace.
All Du Toit wants is peace and no one will give it to him. Not his wife, not his mistress and certainly not the South African government – who endlessly move the BEE goalposts. Building Du Toit Manufacturing has been his whole life, but sometimes you have to tear down what you have to get what you want. Or do you?
Justice.
All Precious wants is justice. And as an overworked prosecutor in the South African justice system she fails every day to achieve it. But the universe works in mysterious ways and the high-profile case that is about to land in her lap might just give her the opportunity to make it all right. But who is really pulling the strings?
Hope.
All Mira wants is to believe in a future where she can help to make the world a better place. But she's stuck in a dead-end job with no hope of anything more. The only bright patch on her horizon is her new boyfriend, Arno, but is he all he seems?
Respect.  
All Joseph wants is respect. When he graduated from medical school in Zimbabwe he thought he had the world at his feet. But that was before he became caught up in politics and was banned from practising medicine. Now he works as a gardener in a Johannesburg suburb, scraping together money to send home to his wife and daughters. What will become of his sick daughter when his job is on the line?
The life and the death of one man will change everything.
The official One Man book trailer:
View One Man's Facebook page HERE

Follow One Man on Twitter HERE
Published by Kwela Books (An imprint of NB Publishers)
ISBN: 9780795707056