An unforgettable love story written by a Pulitzer Prize-winning journalist.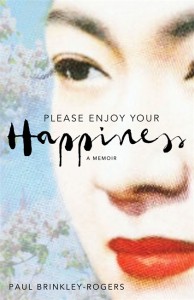 Please Enjoy Your Happiness is a beautifully written coming-of-age memoir based on the English author's summer-long love affair with a remarkable older Japanese woman. Whilst serving as a seaman at the age of nineteen, Brinkley-Rogers met Kaji Yukiko, a sophisticated, highly intellectual Japanese woman, who was on the run from her vicious gangster boyfriend, a member of Japan's brutal crime syndicate the yakuza. Trying to create a perfect experience of purity, she took him under her wing, sharing their love of poetry, cinema and music and many an afternoon at the Mozart Café. Brinkley-Rogers, now in his seventies,  re-reads Yukiko's letters and finally recognizes her as the love of his life, receiving at last the gifts she tried to bestow on him. Reaching across time and continents, Brinkley-Rogers shows us how to reclaim a lost love, inviting us all to celebrate those loves of our lives that never do end.
About the Author
Paul Brinkley-Rogers is a veteran war correspondent and Pulitzer Prize-winning journalist. For many years he worked in Asia as a staff member of Newsweek, covering the wars in Vietnam and Cambodia, the death of Chairman Mao, and Japan's economic miracle. He also reported from Latin America for the Miami Herald, sharing the Pulitzer Prize with a reporting team in 2001 for coverage of the Elian Gonzalez custody battle. Now retired, he lives in Arizona.
Published by Pan Macmillan
ISBN: 9781509806089