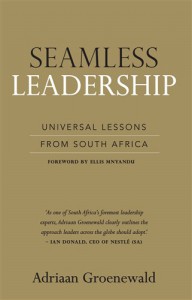 For most of the lifespan of the new South Africa, leadership consultant Adriaan Groenewald has interviewed and written about top political, corporate, entertainment and sports leaders. His leadership model embraces the legacy of Nelson Mandela – to unselfishly unite people around the creation of positive movement towards the impossible, while fearlessly, openly embracing and confronting all obstacles along the way.
What makes a seamless leader? The book combines theory and practice in subjects such as decision making, combining success and values, igniting passion and shifting attitude, performance, multiplying leaders for real impact, motivation, courageous conversations, and leading in difficult times or sensitive situations.
Short chapters are complemented by 'interview' sections which illuminate principles learned from personal leadership conversations with individuals from different sectors of society, ranging from President Jacob Zuma to Helen Zille and Sizwe Nxasana to Mike Brown.
A selection of people interviewed:
Mark Cutifani (Anglo American) ♦ Gareth Cliff ♦ Dr Iqbal Survé ♦Adrian Gore (Discovery) ♦  Terry Volkwyn (CEO – 1st for Women) ♦Pres Jacob Zuma ♦ Helen Zille ♦ Gary Kirsten ♦ Sizwe Nxasana (CEO – First Rand) ♦ Brian Dames (Former CEO of Eskom) ♦ Sipho Nkosi (President – Chamber of Mines) ♦ Chris Griffith (CEO – Anglo American Platinum) ♦ Victor Matfield ♦ Heyneke Meyer ♦ Gill Marcus♦ Michael Jordaan ♦ Herman Mashaba ♦ Chad le Clos ♦ Zwelinzima Vavi ♦ Ian Donald ♦ Raymond Ackerman ♦ Julius Malema amongst others.
About the Author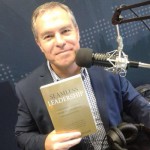 Adriaan Groenewald is the founder of The Leadership Platform.  He is a leadership commentator, strategist, author and consultant that assist leaders and organisations towards becoming more leadership fit.
He has a very popular weekly leadership show on CliffCentral, writes a column for the Business report and often for The Star Workplace. He is the author of  the CEO Leadership Handbook and Moving Towards Your Leadership Destiny. He lives in Johannesburg.
View Adriaan's Facebook page HERE and follow him on Twitter HERE
Published by Jonathan Ball Publishers
ISBN: 9781868426461