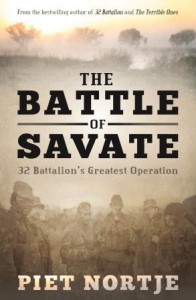 On 21 May 1980, under the codename Operation Tiro-Tiro, 32 Battalion attacked and routed a FAPLA brigade at Savate, a small town 75 kilometres inside Angola. Fifteen members of 32 Battalion were killed in the action and many more wounded. It was the highest South African casualty rate in a single skirmish since the start of the Border War. Overall, however, Savate was a significant victory for 32 Battalion. FAPLA suffered heavy casualties and the invaders captured a great many vehicles, weapons, ammunition and other equipment.
Despite the number of casualties, Operation Tiro-Tiro, or the Battle of Savate as it became known, was 32 Battalion's biggest victory since its formation in March 1976. To this day a remembrance service and parade is held annually to commemorate the battle and to remember 32 Battalion's victory and the price they paid.
Drawing from official documents in the Department of Defence Documentation Centre that have only recently been declassified and from testimonies of soldiers on both sides, The Battle of Savate is the definitive account of one of the greatest battles of the Border War, describing in detail the operation, its motivation and planning, its achievements and failures, and vividly recreating the experience of what happened on the ground.
About the Author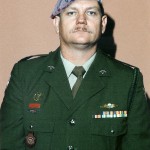 Piet Nortje joined the SADF Permanent Force in 1978 and rose rapidly through the ranks in 32 Battalion. In 1985 he was appointed as the unit's Regimental Sergeant Major, the youngest RSM ever in the SADF. Although his involvement with 32 Battalion came to an end in 1988, he continued to serve in the SANDF until his resignation in 2005. He is now a major in the United Arab Emirates Armed Forces. His previous books are 32 Battalion and The Terrible Ones.
Published by Zebra Press (An imprint of Penguin Random House)
ISBN: 9781770227798