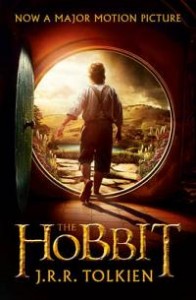 The Hobbit is a classic in children's literature, and the author, J.R.R. Tolkien, wrote it for his own children.  Since 1937, when the book was first published, it has never been out of print!
Bilbo Baggins is a hobbit who enjoys a comfortable, unambitious life, rarely traveling any farther than his pantry or cellar. But his contentment is disturbed when the wizard Gandalf and a company of dwarves arrive on his doorstep one day to whisk him away on an adventure. They have launched a plot to raid the treasure hoard guarded by Smaug the Magnificent, a large and very dangerous dragon. Bilbo reluctantly joins their quest, unaware that on his journey to the Lonely Mountain he will encounter both a magic ring and a frightening creature known as Gollum.
And today, the film adaptation of The Hobbit (Part 1), releases in cinemas nationwide, with Part 2 expected to be released next year.  Click HERE to watch the film trailer.