When Richard Nevis quit the rat race, being pursued to the Owl House in Nieu Bethesda by an assassin with a books fetish was not what he had in mind.
The trouble started while Richard was volunteering at a shelter for mistreated tokoloshes. There he befriended Lun, one of these often misunderstood creatures. But Richard and Lun come to the unwelcome attention of both a brutal villain and Cape Town's most dangerous criminal mastermind.
Teaming up with a potent duo of midwives, who are members of a secret order equally adept at delivering infants and performing martial arts, Richard and Lun have to race across the Karoo in a quest to open an ancient metal box to stay alive.
Delightfully entertaining and funny, Tokoloshe Song is Andrew Salomon's fantasy debut.
About the Author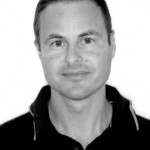 Andrew Salomon is the author of a young adult novel, The Chrysalis, and his short stories have appeared in several journals and collections. He received a PEN/ Studzinski Literary Award for African Fiction in 2009 and was shortlisted for the 2011 Terry Pratchett First Novel Award. He lives in Cape Town, but his work as an archaeologist has taken him all over southern Africa and a few places beyond. Tokoloshe Song is his first novel for adults.
Published by Umuzi (An imprint of Random House Struik) 
ISBN: 9781415207017