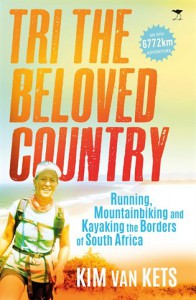 What makes a working mother and average athlete decide to take on a massive physical and mental challenge to run, cycle and kayak the perimeter of South Africa, covering 6 772 km in less than five months? Kim van Kets was inspired by her desire to demonstrate to her daughter the fact that mothers are heroes too. Married to adventurer, Peter van Kets (2x Atlantic Rower and only African to have rowed solo across any ocean and one of the few South Africans to have trekked to the South Pole, detailed in his book The Eight Summit), she was able to justify the 'time-out' after having built up a credit balance of 150 days owed to her by her husband.
Her story is a positive and enthusiastic 'off the beaten track' South African adventure and is amusing, anecdotal and inspiring. It tells of the physical and mental challenges of the journey but focuses on stories surrounding the people and places she encountered along the way, including those of the ancient Kalahari farmer who pronounced her to be a 'Ramkat' and the Nama goatherd who seemed doubtful about her gender and anxious to be rid of her.
The book is also a wonderful South African travelogue and is studded with nuggets of history and fascinating trivia about the plants, animals, characters and places as well as brief summaries of important life lessons the journey highlighted for the author. It will leave the reader feeling up-beat, inspired and eager to explore the splendour of the Beloved Country and its people.
About the Author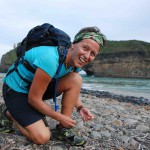 Kim was born and raised in the rural areas of the Eastern Cape, studied law at Stellenbosch University, was admitted as an attorney and spent many years in legal practice and the corporate world. She is currently self-employed as a legal consultant/corporate trainer, freelance writer, author and motivational speaker who works just enough to enable her to stay out of the poor-house and run in interesting places.
Although she insists she is a very average runner, she has a tank-like ability to keep going and has taken part in numerous multi-day and self-supported ultra-distance off-road races.
She is also mother to nine-year-old Hannah who plans to be (among other things) an extreme rock-climbing hip-hop-dancing artist/archeologist when she grows up.
View Kim's website HERE
View Kim's Facebook page HERE and follow her on Twitter HERE
Published by Jacana Media
ISBN: 9781431421343