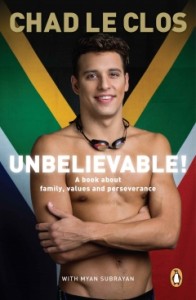 At the 2012 Olympics Chad le Clos, a twenty-year-old from Durban, astounded the world by achieving the 'unbelievable': he beat Michael Phelps, his childhood hero and the world's number one swimmer, in the 200 metres butterfly final.
Unbelievable! is about the making of a swimming sensation – in the words of the golden boy himself, his family and those who have stood by him from the start. It is an encouraging account of realising the ultimate goal, not through chance, but with the resolute support of family and friends and Chad's own relentless dedication to his sport.
Taking its title from his dad, Bert le Clos', famous exclamation on BBC TV when his son defeated Phelps, this book follows Chad's rise to Olympic stardom. An inspirational story for all wishing to achieve beyond what may seem possible.
View Chad's website HERE
Like Chad's page on Facebook HERE and follow him on Twitter HERE
About the author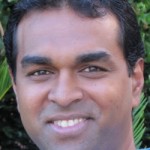 Myan Subrayan is a writer and motivational speaker, and works with top sportspeople and professional teams as a life coach. He is the author of Pierre Spies: More than Rugby and Inga: My Story, biography of former All Black Inga Tuigamala.
View Myan's website HERE
View Myan's Facebook page HERE
Published by Penguin Books
ISBN: 9780143538653