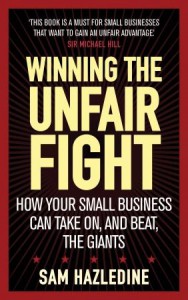 It's tough starting and running a small business – you can feel like the underdog competing with large businesses that have more money, more experience and better established reputations.
But small businesses have the advantage – they are flexible and can adapt and innovate more quickly. Sam Hazledine knows this from direct experience, because he has grown his own start-up company, MedRecruit, into a very successful business, with a turnover in excess of $20 million a year.
In Winning the Unfair Fight, Sam shares his techniques for success and shows how small businesses can punch above their weight, and win. He presents simple, powerful concepts plus action steps to make them a reality.
Winning the Unfair Fight will become your blueprint for running and growing your business, with Sam's hard-won tips and advice guiding you to success.
About the Author
Sam Hazledine owns the company MedRecruit, which has featured in the Deloitte Fast 50 for four consecutive years. He won the Young Entrepreneur of the Year award in the Ernst &Young Entrepreneur Awards in 2012, and lives in New Zealand with his family.
View Sam's website HERE
Like Sam's Facebook page HERE and follow him on Twitter HERE
Published by Zebra Press (An imprint of Penguin Random House)
ISBN: 9781770228269