World War Z releases today, based on the novel by Max Brooks, starring Brad Pitt, Mireille Enos, Daniella Kertesz.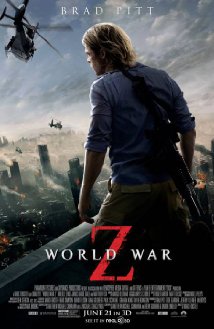 United Nations employee Gerry Lane traverses the world in a race against time to stop the Zombie pandemic that is toppling armies and governments, and threatening to destroy humanity itself.
View the movie trailer HERE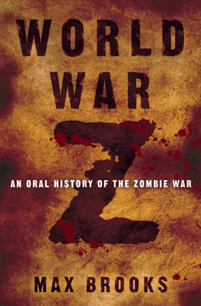 ABOUT THE BOOK
World War Z is a 2006 apocalyptic horror novel by Max Brooks. It is a follow-up to his 2003 book, The Zombie Survival Guide.
World War Z is a collection of individual accounts, wherein Brooks plays the role of an agent of the United Nations Postwar Commission, one decade after the story's Zombie War.
Through a series of oral interviews, Brooks, as an agent of the United Nations Postwar Commission, describes the history of 'World War Z'.  Although the origin of the zombie pandemic is unknown, the story begins in China after a zombie bites a young boy. The Chinese government attempts to contain the infection and concocts a crisis involving Taiwan to mask their activities. The infection is spread to other countries by the black market organ trade and by refugees; an outbreak in South Africa finally brings the plague to public attention.
ABOUT MAX BROOKS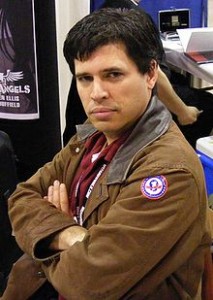 Max Brooks is The New York Times bestselling author of The Zombie Survival Guide and World War Z. He has been called 'the Studs Terkel of zombie journalism'.
Brooks is the son of director Mel Brooks and the late actress Anne Bancroft. He is a 1994 graduate of Pitzer College. His wife, Michelle, is a screenwriter, and the couple have a son, Henry.
View Max's website HERE and his Facebook HERE