You are Dead is the eleventh thrilling crime novel in Peter James' Roy Grace series.
They were marked for death.
The last words Jamie Ball hears from his fiancée, Logan Somerville, are in a terrified mobile phone call. She has just driven into the underground car park beneath the block of flats where they live in Brighton. Then she screams and the phone goes dead. The police are on the scene within minutes, but Logan has vanished, leaving behind her neatly parked car and mobile phone.
That same afternoon, workmen digging up a park in another part of the city, unearth the remains of a woman in her early twenties, who has been dead for thirty years.
At first, to Roy Grace and his team, these two events seem totally unconnected. But then another young woman in Brighton goes missing – and yet another body from the past surfaces.
Meanwhile, an eminent London psychiatrist meets with a man who claims to know information about Logan. And Roy Grace has the chilling realization that this information holds the key to both the past and present crimes . . . Does Brighton have its first serial killer in over eighty years?
About the Author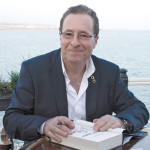 Peter James was educated at Charterhouse then at film school. He lived in North America for a number of years, working as a screenwriter and film producer before returning to England. His novels, including the Sunday times Number One bestselling Roy Grace series have been translated into thirty-four languages, with world sales of 11 million copies, and three have been filmed. All his novels reflect his deep interest in the world of the police, with whom he does in-depth research, as well as science, medicine and the paranormal. He has also produced numerous films, including The Merchant of Venice, starring Al Pacino, Jeremy Irons and Joseph Fiennes. He divides his time between his homes in Notting Hill, London and near Brighton in Sussex.
View Peter's website HERE
Like Peter's Facebook page HERE and follow him on Twitter HERE
Published by Pan Macmillan
ISBN: 9781447255772